Vietnam High Quality Gloves
Holding up the new rubber glove factory, Le Bach Long, director of Nam Long Company Limited (Long An commune, Long Thanh district), share of enterprise products are manufactured according to the process control quality ISO 2001: 1988 is always improving to meet the needs of customers.
As such, the company's products are consumers voted as Vietnam high quality goods in three consecutive years from 2013 to present.
* "Eat" seafood
In late 1998, the Company started Nam Long established and to officially go into production right until December 3-1999. According to Mr Long, the investment cost production line for this sector requires considerable amount of capital, especially in the template to be imported by the domestic no. The pair of mold after a period of use is worn, must enter a new row instead. Currently, each product of his glove factory is using molds to produce 2,400 pairs (there are over 10 different kinds of products, the amount of molds up to 25 thousand pairs). Raw materials to produce products of rubber gloves are natural rubber latex.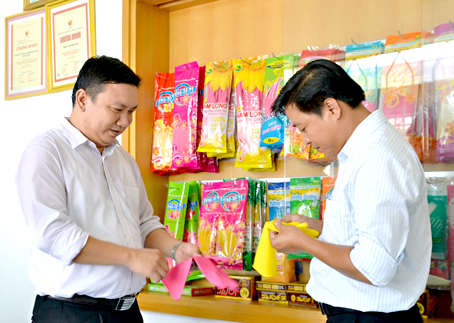 Mr Le Bach Long (left), director of Nam Long Company Limited introduced the rubber glove products by manufacturing enterprises.
Major customers are now aimed at the processing plant of seafood. This is quite a large number of tourists and concentrated in the Mekong Delta province. The activity of the company processed seafood exports in recent years has also created opportunities for business growth.
Parallel to that, the need to use gloves for housework is also increasing. Products rubber gloves of Nam Long is not only for domestic consumption but also exports abroad. This is also the reason that businesses are expanding production in recent years. "From 2006 onwards, the factory only 1 production line with an output of over 3 million pairs of gloves / year. In 2008 the company will invest 1 lines anymore and now we are installing additional 4th line each year the company marketed about 20 million pairs of gloves, "- Mr. Long said.
* Ready Integration
Share on developing problem markets, Mr. Long said, currently 30% of its gloves are exported abroad, mostly exported to South Korea. Accordingly, in some countries with cold climates, the need to use gloves to work pretty much home. Enterprises are seeking direction to expand the export market.
According to Mr Long, in the context of Vietnam to integrate into the current, especially this year will ASEAN countries trade, tariff barriers are removed, the plan keeps the domestic market is very important important, because 70% of the business volumes being consumed domestically. He said: "I have studied in manufacturing rubber gloves, in ASEAN countries such as Vietnam, Thailand and Malaysia have rubber industry alike. Competitive advantage in Vietnam still higher thanks to abundant raw materials and labor costs are lower. " Mr. Long said that to sustain and grow well in the local market next time only way to continue improving the quality and diversification of products to meet customer needs.
Khắc Giới (baodongnai.com.vn)