Protective gloves come in many types and with many different applications. However, sandblasting is a relatively new application, not many people know it. Therefore, Nam Long summarizes some of the following information to help you better understand these gloves.
1/ What are sandblasting protective gloves?

Sand blasting and spray grinding is one of the indispensable equipment in the mechanical engineering background with the effect of cleaning, beautiful, uniform surface, creating roughness for equipment. They help to bring high productivity, saving time many times more than manual work before. You can easily see this technology is applied to areas such as steel structure processing, shipbuilding, petroleum, automobile, wood or granite … However, the pressure of the sand blasting machine is very large. Sand blasting with high speed, fast and strong is dangerous to humans, so workers using sand blasting machines should be equipped with protective equipment such as hats, glasses, masks, protective clothing. and especially sand protection gloves.
Thus, sandblasting protective gloves are also one of the line of protective gloves that protect workers' hands from impacts during the use of sand blasting machines as well as help the working process take place quicker and easier.
2/ What is special about sandblasting gloves?

Each type of protective glove will have its own characteristics, corresponding to the intended use. The same is true for sandblasting protective gloves, to provide maximum safety to users, they will be designed to suit the nature of sand blasting work such as:
- The main material is leather helps to bring safety and comfort to users.
- The side has more cotton strips to absorb sweat.
- Combining outer rubber layer to increase grip, friction when handling sand blasting equipment. Besides increasing abrasion, increasing the life of gloves.
- This type of gloves has a price higher than many other protective gloves.
Sandblasting protective gloves are manufactured with a variety of sizes and lengths to meet the needs of each person, the nature of each job. Not only used in sandblasting technology, sandblasting protective gloves are also used against sparks, metal dust …
3/ Caution when selecting sandblasting protective gloves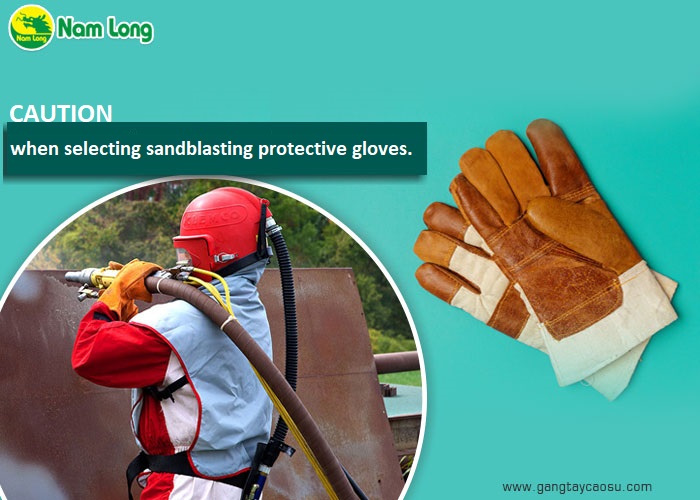 Sandblasting protective gloves are used in many fields. Therefore, the selection of quality and appropriate products is essential to safeguard workers' safety. Here are a few notes when selecting sandblasting gloves, before buying you should pay attention:
- Choose sandblasting protective gloves of reputable brands (RPB gloves, Air Blast gloves …)
- Choose the right type of sandblasting protective gloves, suitable for the job (leather gloves, rubber gloves, dry and wet spray gloves, etc.). Should try gloves before buying.
- Choose sandblasting protective gloves that fit your hand to ensure safety, work efficiency and comfort.
In addition, to use durable sandblasting protective gloves, users need to know how to preserve and be cautious when working, to avoid gloves being torn, damaged …
Thus, it can be seen that sandblasting protective gloves are one of the indispensable equipment of sand blasting equipment workers and other related work. Currently, there are quite a lot of units supplying this line of gloves, so buyers should pay attention to choose the right product, buy at reputable addresses, quality brands.
>>> See more: How much are rubber gloves? Where can we buy the authentic and high quality ones?​
Please contact us:
Address: 103 Tran Van Kieu Str, Ward 10, District 6, Ho Chi Minh City.
Email: namlongco.gloves@gmail.com
Tel: (+84)28.3755.4772 – (+84)983.101.434