Nowadays, rubber medical gloves are using more and more popular because of their benefits. But have you known all about them? Let's check out the 5's "strong points" you may not know about ruber medical gloves.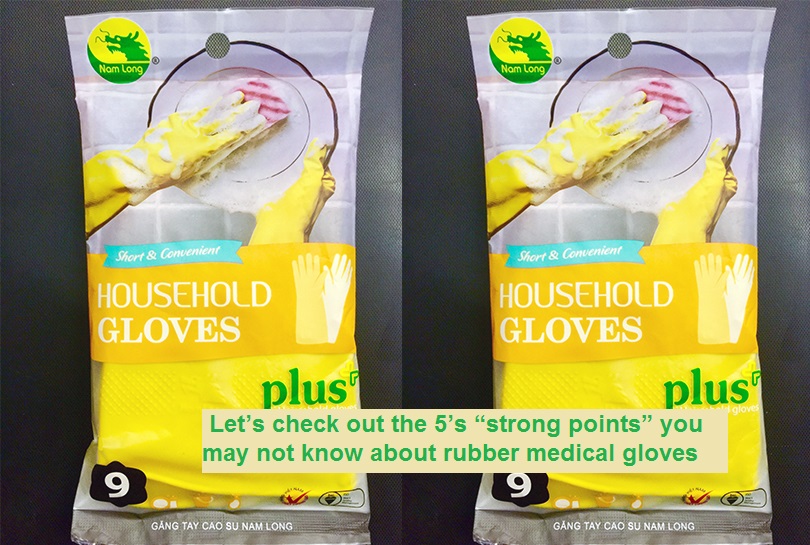 1/ Rubber medical glove is approved by FDA.
Rubber medical glove is invented in 1889 by William Stewart Halsted, the first the Chief Surgeon at Johns Hopkins hospital, US, to prevent chemical dermatitis for medical workers.
With outstanding advantages, these gloves then are gradually approved by the FDA (Food and Drug Administration or the US Food and Drug Administration) for medical use, to protect humans before infectious diseases.
Today, rubber medial glove is clasified into two types: examination and surgical. Examination gloves are frequently used by medical workers and nurses to protect themselves from infection, while surgical gloves need to be more advanced to ensure sensitivity and accuracy for doctors in surgery.
Disposable rubber gloves today is not only widely applied in medial and dental fields, but in many other industries also, such as: Child Care, Food Processing, Manufacturing and Sanitation industries.
Resistance to toxic chemicals of rubber latex.
Natural rubber latex has been found to be resistant to chemicals, against most acids, bases, chlorine, iodine and formaldehyde. When using natural rubber to produce medical gloves, it becomes a comprehensive protection barrier for medical personnel.
Not only in the medical field, rubber nowadays is also a great material for the production of industrial gloves, or gloves used in food industry. In order to provide absolute safety, glove manufacturers have adopted antimicrobial technologies, using non-toxic materials and chemicals to turn rubber gloves into truly harmless products.
Rubber gloves have better puncture resistance than Vinyl gloves.
Latex gloves are used in high-risk situations involving infectious materials. They have better elasticity than nitrile (synthetic rubber), more comfortable, flexible, suitable for medical, dental, and food industry.
To be more specific, the gloves made from rubber materials are much more resistant to puncture than Vinyl gloves (gloves made from PVC). This makes each rubber glove more usable, fewer accidents, and helpful for smoothly work progressing.
Not only medical gloves, industrial rubber gloves are also equipped with this feature, even better because of the difference in thickness. With a better price, they aloso quickly become one of the popular choices in processing, hygiene, and food industry.
More applications of rubber gloves.
Today, industrial rubber gloves and household rubber gloves have become popular in many different areas such as automobiles, manufacturing, food processing services, kitchen hygiene. This proves that rubber is now the ideal and popular material in glove making applications.
Medical rubber gloves bring the fit and ease-of-use for users.
A special feature of all types of rubber gloves is that it fits well into the hand, providing the most flexible movement sensations. That's why rubber gloves are used in medical and many other manufacturing industries. This helps users more convenient when wearing gloves, no sense of obstruction. For example, in dentistry, dentists can be easy to handle small objects while using rubber gloves.
In industrial field, rubber gloves offer ideal benefits to help users complete working process well. The natural rubber gloves are designed long, hugging the arms, protecting the hands, anti-stick treatment inside, to create comfort in using. The palm of the glove has a pattern, which increases the adhesion, anti-slippery.
Medical rubber gloves or industrial gloves have their own advantages and are increasingly used more widely. This is also the best proof that natural rubber is the ideal material to produce safe and quality gloves.