Thick rubber gloves are used in areas exposed directly to many chemical substances and sharp objects that easily hurt your skin. Here are 3 of the most popular thick gloves.
1/ Thick rubber gloves against chemicals

Compared to other materials, rubber is considered the "brightest candidate" in the glove industry as they possess good elasticity, high puncture resistance, especially many times durable than others. This is also the reason why rubber gloves are applied in many different fields from medical, industry, food processing, cleaning, science, beauty salon, etc.
To increase its efficiency, the chemical resistant glove lines are often designed to be thicker (over 1cm) compared to the remaining with a better resistance to toxic chemicals. Depending on the type of chemicals, rubber gloves will be combined with several ingredients to create different thickness.
2/ Thick rubber gloves are applied in the food processing industry

Industrial processing and food processing, especially seafood and agricultural products work without the use of rubber gloves. They help protect workers' hands, while ensuring food's safety and hygiene literally.
For these types, the design does not need to be too thick (0.60mm) but it needs good durability to avoid external factors scratching and hurting the user's skin. Because of contacting with food, most of these gloves are of natural origin, no harmful chemicals and powderless. At the same time, they are designed with printed pattern to increase the adhesion, especially with the seafood processing industry.
On the other hand, to create a sense of comfort when using, many units of gloves production have applied antibacterial technology, deodorizing and anti-sticking to help the user no longer feel sticky or unpleasant smell.
3/ Household rubber gloves thick, long

One of the quietly popular applications of rubber gloves is to support women in daily household tasks such as washing dishes, bowls, laundry, cleaning, gardening, food processing, etc. Besides, wearing gloves will help your hands and skin not be dry, thin or flaky due to chemicals or contacting too long with water.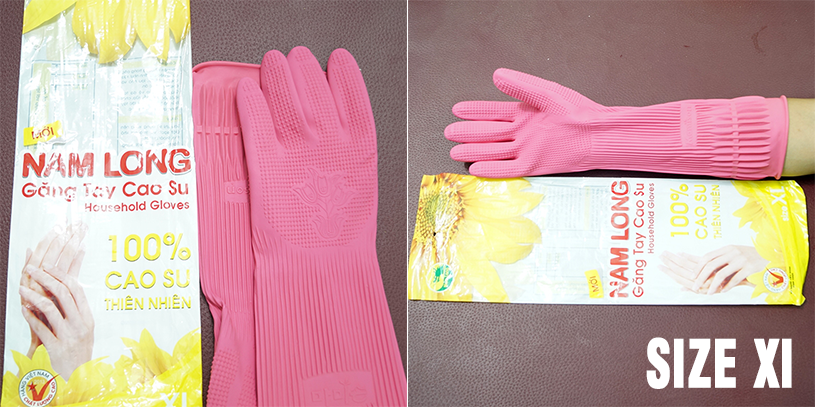 There are 2 types of household rubber gloves, thick and thin. The thin type is often used in cooking, peeling garlic, onion, vermicelli, dough stuffing, etc. To ensure hygiene for food, this type often covers the hand skin closely like the medical gloves. The thicker type is often designed to be wider, longer and hugging to the arms to protect the best for both arms, especially cleaning chemicals or people with rheumatism cannot be exposed to cold water.
Usually the natural rubber gloves will have better thickness and durability than synthetic products. Therefore, this may be a suggestion if you want to find a good, thick and durable product.
Currently, there are quite a lot of household rubber gloves that you can easily find at markets, supermarkets or grocery stores. However, to avoid buying the poor-quality products, you should choose products from reputable brands with clear and safe origin in food processing.
Thick rubber gloves help protect users' hands against chemicals, detergents and sharp objects. However, they are only at a certain extent. Therefore, to ensure the safety of your hands, you need to combine the selection of a high-quality pair of rubber gloves and use them wisely.
>>> See more: 7 reasons to use rubber gloves for cooking and washing dishes