Ultra-durable rubber gloves are found by many people to meet the demands of housework and cleaning for a long time. Here are 5 types for reference.
1/ Industrial, versatile and super durable household rubber gloves of Nam Long Company

Regard to the ultra-durable rubber gloves, they bring a comfortable feeling when doing housework. Nam Long is one of the brightest "candidates" trusted by many housewives. The advantage of this brand is that the gloves are manufactured from 100% natural rubber, without toxic chemicals and absolutely safe for users.
Because it is made from natural rubber, Nam Long gloves have a good durability and high puncture resistance. Therefore, women can be assured of doing housework, washing dishes, and laundry without damaging their skin or scratching their hands. Not to mention, Nam Long also combines bactericidal, mildew, and deodorizing technology effectively. That's why when you use it, you won't see any unpleasant odors or sticky feeling after using.
Nam Long latex gloves include industrial, versatile and household gloves. Each type is designed specifically to suit the purpose of user. So the common point of them is to design firmly, closely fitting and combine printed pattern to create extremely good grip and the most comfortable feeling for users.
With many sizes and different colors, the price is extremely reasonable. The housewives can freely choose and use it to quickly solve household chores.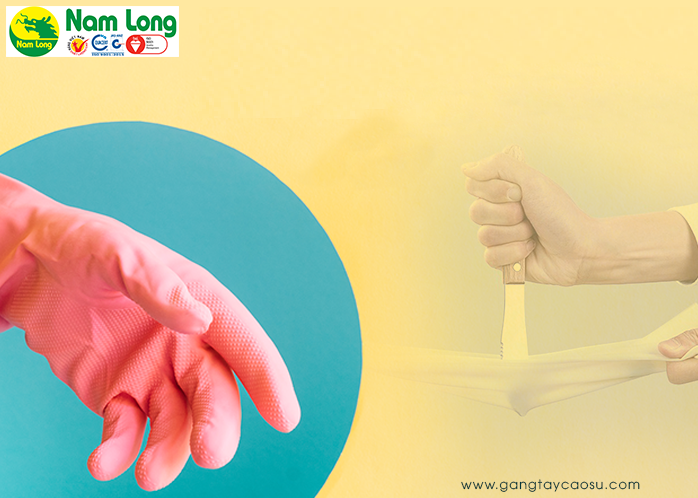 2/ Super durable medical rubber gloves

For jobs such as cooking, stuffing or food processing like meat, fish and vegetables, medical gloves with high durability are considered as one of the optimal choices. This line is not too thick but it has a high durability which is suitable for cooking.
However, you cannot use them in some tasks like washing dishes, laundry and cleaning for a long time. These gloves are quite short in size, so it is difficult to avoid chemicals and fishy smells sticking to your hands. Besides, in order to be safe in food processing, you should consider choosing medical gloves without powder.
3/ Super durable felt-base rubber gloves used in winter

If your hands are cold, especially in the winter, felt-base rubber gloves are one of the reasonable suggestions. This line is designed with an outer layer of rubber and inside is a felt-base that creates a warm feeling when working as well as long gloves with a fixed rubber band.



The disadvantage of this type is that the durability is not as high as the remaining rubber gloves. In particular, they must be cleaned carefully to avoid moldy conditions because the inner layer is felt-base. At the same time, this type is only suitable for winter, if you use it in hot weather, it can cause uncomfortable feeling to the users.
4/ Malaysia super durable rubber gloves

This is one of the ultra-durable rubber gloves, applied in the industrial and household areas. However, as an imported glove, you need to be careful to avoid buying the fake and poor quality products.
5/ Japan super durable rubber gloves

Japanese rubber gloves are also one of the choices for consumers. They are quite similar in design to domestic gloves. However, the price is quite high compared to the others. Besides, most of these gloves are sold at Japanese store or websites, so it is difficult to reach many housewives.
In addition, there are some Korean rubber gloves with thorns which are sight by many women, but they do not bring as much beneficial as their good-looking appearance.
Choosing a pair of durable rubber gloves will help you save your time, effort and money. At the same time, they will help protect your hands as well as food and objects. However, you should note that to use a pair of gloves for a long time, it really depends on your use and preservation.
>>>See more: 5 tips of using dishwashing rubber gloves without causing skin irritation