PU coated protective gloves are chosen by many businesses and users because of their quality compared to conventional fabric gloves. Let's figure out more advantages and disadvantages of this glove line.
1/ What are PU coated protective gloves?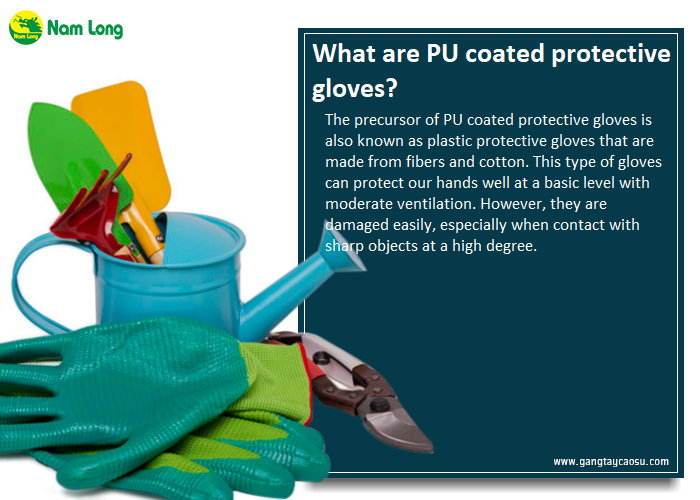 The precursor of PU coated protective gloves is also known as plastic protective gloves that are made from fibers and cotton. This type of gloves can protect our hands well at a basic level with moderate ventilation. However, they are damaged easily, especially when contact with sharp objects at a high degree.
PU is Polyurethane, a synthetic material with high elasticity, good adhesion, puncture resistance, and abrasion resistance. Coating a layer of PU onto protective fabric gloves will make them more superior and durable as well as increase productivity and flexibility for users. That's why PU coated protective gloves are born. The PU layer is usually coated onto the fingertips of the gloves.
Hence, PU coated protective gloves are cotton-based gloves, coated with a PU layer, especially on the fingertips. Some are made of lightweight and tight-fitting cotton and possess a length covering over the wrist joint that helps protect the entire hands and wrists. They are applied in many fields such as construction sites, manufacturing, food processing, repairing machines, industrial equipment, electronic components, cold-room applications, and so on.
2/ Are PU coated protective gloves good?



PU coated protective gloves are innovative products from traditional fabric gloves to meet the demands of many professional-working environments. They provide adhesion without being stuck, high puncture resistance, and abrasion resistance without being bulky because the PU layer is quite thin. This helps workers use the gloves more flexible, especially with good sensitivity to suit the working environment that requires high accuracy. Some have good anti-static applications.
However, the layer is quite thin, so when using for a long time, especially exposed to the heat, the physical and chemical connection of Polyurethane, they will be broken easily. Besides, the hydrolytic resistance of PU is relatively low. Therefore, this line of gloves does bring many advantages but low durability. Some manufacturers believe that they can be replaced with natural rubber because of their better durability, but the rubber layer needs to be thick enough to meet the demands.
Currently, the line of PU coated protective gloves is widely used and diverse in products, colors, sizes, and so on. However, they only promote their functions in suitable working environments and properly preserved. Depending on the using purposes, you can choose the type of fingertip coated or full-hand coated. Hopefully, the above information can partially help you better understand the benefits and drawbacks of this PU coated glove line.
>>> See more: How much are rubber gloves? Where can we buy the authentic and high quality ones?​
Please contact us:
Address: 103 Tran Van Kieu Str, Ward 10, District 6, Ho Chi Minh City.
Email: namlongco.gloves@gmail.com
Tel: (+84)28.3755.4772 – (+84)983.101.434