Protective fabric gloves are made of many different fibers that each type corresponds with a distinct field. Therefore, understanding the nature of each fiber will help you choose the right type of gloves.
1/ Protective gloves made from Nylon fiber

Nylon fiber (Polyhexamethylene adipin acid amide) is often used to produce fabric glove applications in light industry, transport and agricultural sectors.
The characteristics of Nylon fiber are less affected by moisture, resistant to heat up to 180 degrees Celsius and a good level of acid resistance. The advantage of the protective gloves made from this fiber is that it has high durability, light oil-resistance, and helps users to have gentle and effective movements. Besides, you can see that most nylon fiber protective gloves will be combined with coatings made of materials such as rubber, nitrile, plastic, etc. This is to increase efficiency when applying gloves to each field.
2/ Protective gloves made from Polyester fiber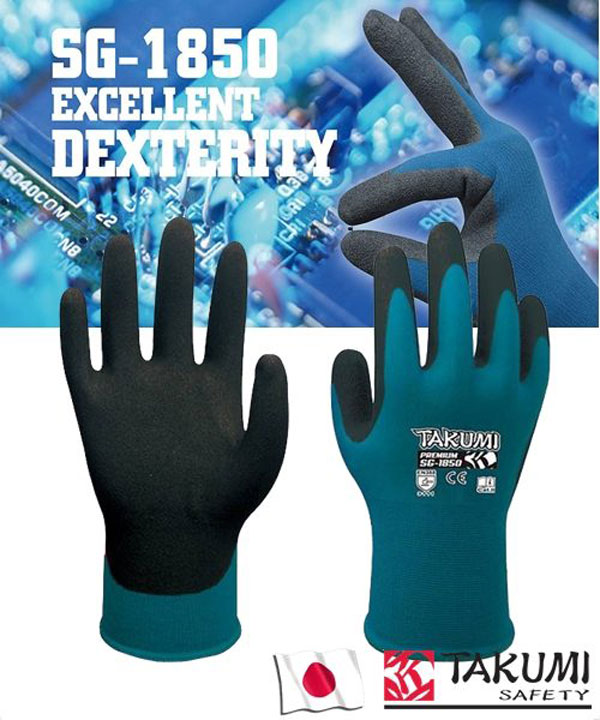 Protective polyester gloves also known as poly fabric gloves. This is a synthetic fiber derived from oil, air, coal and water. They stand out with the ability of not absorbing moisture but oil. This is the reason why this material is often produced for all kinds of versatile gloves, incorporating good resistance to water, dirt, dust, and fire. Some gloves also incorporate premium nitrile to match each field nature.
3/ Protective gloves made from Cotton fiber

This is a quite popular line of gloves, derived from completely natural cotton plants. The characteristic of this glove line is its ability to absorb moisture like water up to 65% of weight. This makes users feel drier and softer than those of nylon or polyester.
4/ Protective gloves made from Spandex fiber

Spandex fiber is also known with other names such as Elastane or Lycra, which stands out with the best elasticity of yarns. At the same time, they also possess many outstanding advantages such as:
- Extremely flexible
- Do not cause crease, so it has the ability to hold a shape longer
- Less absorbent to water, moisture or oil
- Light, smooth and easy to dye due to colorless, non-electrical accumulation
- Do not create fibers or knot on the surface
- High durability
- Long-term use but the fabric surface is not rough or ruffled
Thanks to these characteristics, this material often appears in cut-resistant gloves and some other types.
5/ Protective gloves made from HPPE fiber

If you pay attention, you can find out that this material is often used in cut-resistant gloves, anti-friction, anti-puncture, and anti-tear gloves which are used to contact with sharp objects.
HPPE (High Performance Polyethylene) fiber has a very high molecular weight and similar properties as same as HDPE fibers. They are processed with very high compression density so they are well-resistant to corrosion and puncture compared to the remaining fibers.
6/ Protective gloves made of Kevlar fiber

This is a material that often appears in military fields, especially in making bullet-proof vests. That's why this type is made of Kevlar fibers that are often used in products with outstanding anti-cut and anti-puncture.
Protective gloves are necessary to protect the user's hands. However, for each field, the nature of the work is quite different and the danger extent is not the same. Therefore, to bring maximum safety to users, choosing the right product is extremely necessary. Hopefully, with the information about the materials making the protective gloves partially helps you understand and choose the right products.
>>> See more: 7 reasons to use rubber gloves for cooking and washing dishes
Please contact us:
Address: 103 Tran Van Kieu Str, Ward 10, District 6, Ho Chi Minh City.
Email: namlongco.gloves@gmail.com
Tel: (+84)28.3755.4772 – (+84)983.101.434