Not many women pay attention to kitchen thermal protective gloves (used for ovens) until an unfortunate incident related to the quality of these gloves.
Thermal protective gloves are devices that protect the user's hands from the effects of temperature such as burns, scratches and so on. In addition to the specialized lines with a high level of heat-resistance, gloves in the kitchen (mainly being used for ovens or carrying hot utensils) are also used popularly. However, due to their low heat-resistance, they are not really noticed when choosing. In fact, if you choose carelessly, the risk of dealing with burn problems in the kitchen is extremely high.
1/ The best material for thermal protective gloves.

The main function of oven gloves is to protect our hands from burns. Therefore, the materials used to make gloves are extremely important. The most popular line is still cotton gloves. They are made of cotton covered in anti-flame sealants with a variety of colors and designs. They are quite convenient because they are easily cleaned by washing machines, but they do not work well in protecting the hands from high temperatures for a long time, so the heat will quickly damage the hands.
As usual, housewives will choose cotton gloves first because they look pretty as well as thick. However, in fact, there are quite a few materials that do a better job of heat-insulation such as silicone, cotton and rubber. Although cotton is able to provide better comfort for users, gloves which are made of silicone and rubber are rated to be much more effective. So, if you often use the oven, you should choose products made from this material. In addition, you need to be careful with some materials that may affect your health when they are exposed to high temperatures because they can cause cancer.
2/ Choose the suitable design.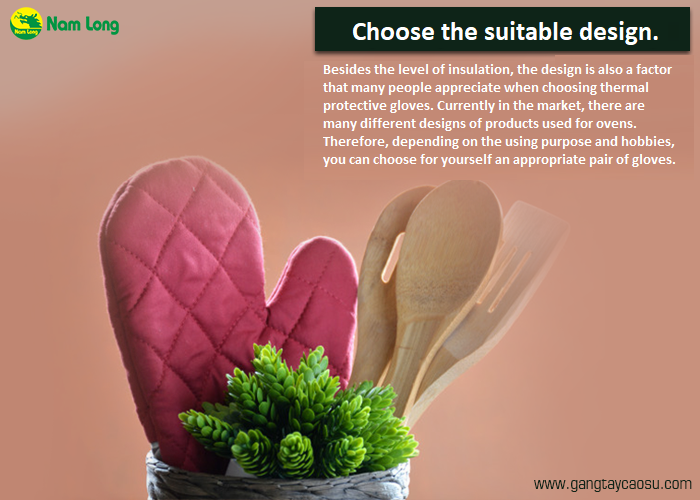 Besides the level of insulation, the design is also a factor that many people appreciate when choosing thermal protective gloves. Currently in the market, there are many different designs of products used for ovens. Therefore, depending on the using purpose and hobbies, you can choose for yourself an appropriate pair of gloves. If the previous designs do not satisfy you, you should try the new ones because they are really diverse.
3/ Choose single or a pair of thermal protective gloves.

You can choose single type (1 piece) and a pair. However, it is best to choose a pair design as they will help you balance when carrying dishes and utensils, and of course they will assure the safety when use, especially for families that have energetic kids.
4/ The comfort and flexibility of insulated protective gloves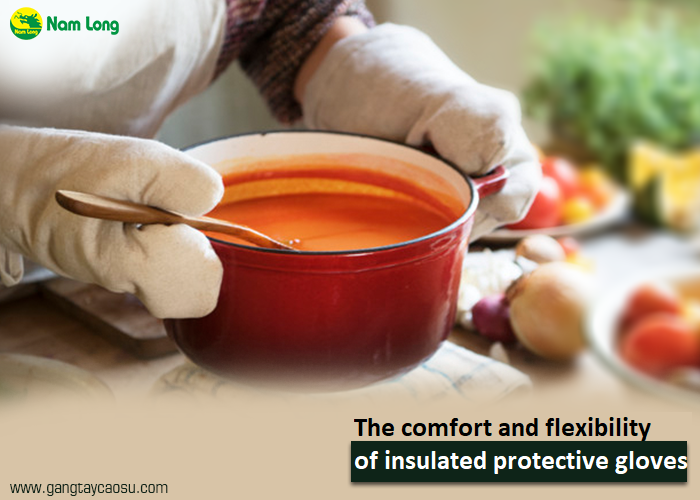 The gloves used in the oven are quite thick, so it doesn't look as flexible when using. Therefore, to avoid falling food and utensils that can hurt yourself, it is good for you to choose a flexible design, providing comfort when using. In addition, you also need to care about the holding ability of the gloves, helping to hold the smallest objects in the kitchen easily.
5/ Don't be so stingy

A pair of kitchen gloves is not overly noticed. However, the truth is that a high-quality pair of gloves, which can ensure the safety when using, will bring a lot of benefits for you and your family. Not to mention, they will have a longer lifespan than the rest of the products. Therefore, this is a product that you should invest, their prices are not too high for you to consider.
Hence, even though it is a small appliance, thermal protective gloves for kitchen use are extremely important. If you are not careful, there are many potential risks for you and your family members. Therefore, you should choose for yourself the right products to avoid being regret.
>>> See more: 7 reasons to use rubber gloves for cooking and washing dishes
Please contact us:
Address: 103 Tran Van Kieu Str, Ward 10, District 6, Ho Chi Minh City.
Email: namlongco.gloves@gmail.com
Tel: (+84)28.3755.4772 – (+84)983.101.434