Leather protective gloves possessing the advantages of being durable, beautiful and keeping warm well, which should be applied in many fields, especially fashion. But, few people know, they are made from what leather material?
First of all, we need to understand that keeping warm is also considered one of the protective roles of gloves. However, because the material of making leather gloves is quite popular, with varying degrees of rarity. Therefore, most of them will be divided into separate groups of leather gloves, basically divided into work gloves, keep warm when traveling and fashion gloves. Corresponding to each type will be made from different materials, let's find out more!
1/ Protective leather gloves made from synthetic leather



This is the main material used to produce the type of protective gloves used in labor today. They are synthesized from animal skin flakes, undergo the process of Polyester and other processes such as patterning, dyeing to form synthetic leather or industrial leather, some called artificial leather.
Gloves made from synthetic leather usually do not have the ability to keep warm, durability is not as good as gloves made from genuine leather but they are affordable, suitable for most users. Currently there are many lines of high-grade synthetic gloves to help increase efficiency and quality of use.
2/ Protective leather gloves made from cow leather



This is the most popular line of genuine leather gloves. Besides real cowhide, there are also some types of imitation cowhide made from high quality plastic such as PU and Simili. They are used in the field of manufacturing safety gloves, partly because of the quality, partly because they are quite cheap compared to other types of genuine leather.
3/ Protective leather gloves made from sheepskin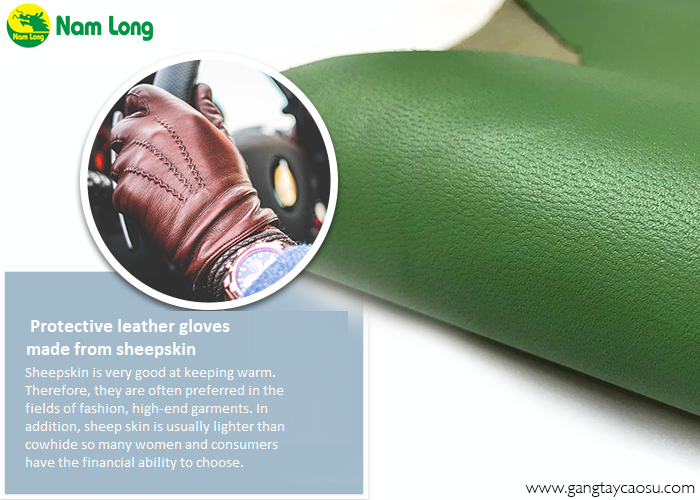 Sheepskin is very good at keeping warm. Therefore, they are often preferred in the fields of fashion, high-end garments. In addition, sheep skin is usually lighter than cowhide so many women and consumers have the financial ability to choose.
4/ Protective leather gloves made from goat leather



Goat skin is smooth, tight and supple. Besides being used for making leather jackets, goatskin is also used for making gloves. To identify real goat leather products, you can pay attention to the arc pattern, on which there will be 2-4 large pores, surrounded by very small pores.
5/ Protective leather gloves made from Nappa leather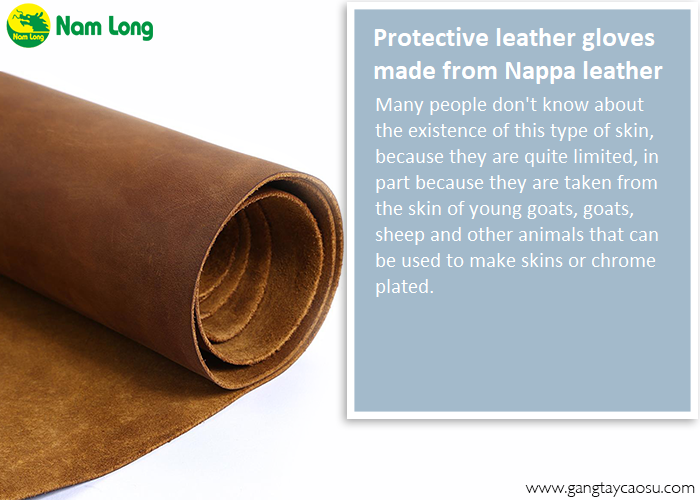 Many people don't know about the existence of this type of skin, because they are quite limited, in part because they are taken from the skin of young goats, goats, sheep and other animals that can be used to make skins or chrome plated.
If you pay close attention, you will see that they often appear in the interior of supercars because they are extremely soft and supple. Therefore, it is not too common to produce gloves, specialized only for high-end items.
6/ Protective leather gloves made from pig skin



Many people do not think that pig skin is also one of the materials used to produce labor protection gloves. In fact, they are used quite a lot and popular with low cost but not many people pay attention. Pig skin is quite noticeable because the pores appear quite clearly with a round, rough, slightly tilted face 45 degrees inclined and every 3 lots will bunch together. When touching the surface is very hard and solid.
Protective leather gloves are one of the most popular protective devices, many of which are often used in fashion or products with the main role of keeping warm. No matter what purpose it is used in, when choosing, consumers should pay attention to not confuse genuine leather, fake leather, avoid buying poor quality products.
>>> See more: How much are rubber gloves? Where can we buy the authentic and high quality ones?​
Please contact us:
Address: 103 Tran Van Kieu Str, Ward 10, District 6, Ho Chi Minh City.
Email: namlongco.gloves@gmail.com
Tel: (+84)28.3755.4772 – (+84)983.101.434