Soaking tubs with dishes in dishwasher solution so long … are hazardous dishwashing habits directly affect health.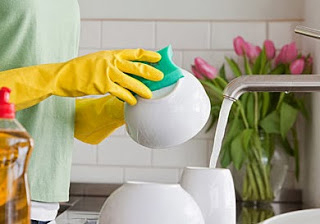 Should the dishwater into absorbent pads were washed, pitcher give up foam then used to scouring
Pour bleach directly onto food utensils will make a residual amount of chemicals because not rinse. The residual chemicals will stick to the food and go into the human body. Therefore, use a separate tray to mix a little liquid into the water, stirring until bubbling up before use. Or maybe the dishwater to wash pieces have waterproof, pitcher for up foam then used to scrub.
Wear gloves when washing dishes because the chemicals in the water bowl clave can cause skin diseases such as, eating hand, mushrooms … Some clinical studies also showed that toxic substances in cleaning solution may transdermal, enters the body through the digestive tract, respiratory. Consequently, skin thinning, if this situation lasts, will lead to skin cancer and other dangerous diseases.
Do not use gloves when washing dishes can be hazardous to health
Absolutely not leaving items in solution pantry dishwashing liquid, bowls too long. By the time the pantry leaving items in bleach solution as long as the risk of those chemicals leach into the higher dishes.